Emma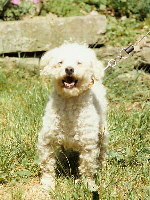 Emma was first seen skulking in field near Newcastle Emlyn, Dyfed. She was terrified when approached by any human and it took over half a day to catch her.

Cowering and shaking when first cradled in a rescuers arms, she had a filthy, matted coat and a glazed look in her yes. She felt like a covered skeleton, her small body being so thin and fragile. Her teats hung limply down like wet tissue paper.

Carried to safety and placed in a warm bed, she lay cowed and frightened. A small bowl of food disappeared within seconds. Later that day at a visit to the vet, it was revealed that Emma was blind, had a severe skin infection, was covered in fleas and had the beginnings of endometriosis. A month later, after treatment, rehabilitation and rest she was placed with an elderly lady who had recently lost a poodle.

Emma died two years later; the womb infection eventually took its toll. But she had experienced love, care and affection from her adoring owner.



Emily


Emily was a breeding bitch on a puppy farm. She was rescued as she was of no further use. She had a womb infection due to over-breeding and neglect. It was cheaper for her owner to replace her with another than to treat her. If she hadn't been rescued she would have been disposed of - killed or thrown out.




Dogs are man's best friend,
but man so very often betrays
his trusting, loyal companion.


The abuse of dogs, cruelly used in the intensive rearing of pedigree puppies in mass-breeding establishments, is both shameful and shocking in our supposedly enlightened times.

The following slideshow displays more images about puppy farming. Please be aware that the some of the pictures portray animal suffering.










| | |
| --- | --- |
| | |
| | If you know of anyone who has purchased a puppy or kitten from a commercial source and it is sick or has died, please let us know with as many details as possible. The chances are the animal will have been bred commercially, and with sufficient details the breeder can be identified and the local authority informed. |