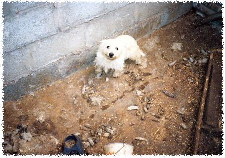 Puppywatch is a small national charity founded in 1989 to document and expose the cruel and inhumane trade of puppy farming, where puppies are indiscriminately bred and sold on to the commercial pet trade.

Puppywatch is run entirely by volunteers and relies upon the goodwill of the public in the form of donations and fund raising events as its sole source of finance.


WHAT HAVE WE DONE?

Puppywatch has spent the past 12 years researching the consumer-led domestic pet market and the industry which serves it, especially the trade and ownership of dogs.

Documenting
Puppywatch has built up a dossier of information and documentation about the commercial puppy trade. The origins of puppy farming and the growth of the multi million pound worldwide industry of canine abuse has been traced by us from post war years to the current day.

Legislation
Puppywatch was the first animal welfare charity dedicated to highlighting the gross inadequacies in animal welfare legislation governing the breeding and sale of dogs. Several important pieces of legislation have been put in place due to our campaign, and in 1990 the Kennel Club amended their rules.

We encourage local authorities and other agencies to work with us to actively discourage the sale of pet animals in pet shops. These changes are positive moves forward and we have seen a reduction in the number of illegal, unlicensed breeding premises in the UK, along with a change in public attitude. However, legislation remains wholly inadequate and fails to prevent the appalling suffering of mans best friend, cruelly betrayed by those involved in this inhumane trade.

Public awareness
Puppywatch has focused attention and brought public awareness to the multi-million pound worldwide industry of puppy trading. It has given a voice to the misery and neglect of thousand of pedigree dogs whose silent suffering is endured unseen and unheard.

Global investigation
Puppywatch has established global links to document the suffering of breeding bitches and puppies bred for a commercial industry throughout the world. We have researched the links between Britain and the Far East and have documentary evidence of the plight of puppies bred in Wales and sold on the Chinese pet market. It is damning proof of a trade which mercilessly exploits pet animals for profit.

Campaigning
We have encouraged many new campaigning groups to form as a result of our work, many of which work locally and are very effective. Others have set up overseas. We are happy at all times to pass on information to assist any way we can.

Educating
Puppywatch seeks to promote a responsible and caring attitude to the acquisition and purchase of puppies and other domestic pets. The public needs to be aware that cruelty and exploitation lie behind the origins of many animals which are offered for sale in commercial outlets and pet shops.

The puppy trade is consumer led and relies on consumer demand which often means buying a pedigree dog to accompany a designer lifestyle. Dogs have become fashion accessories and are the helpless victims of fashion changes. Uncaring owners think nothing of discarding their pets when they have outlived their usefulness. Many of these dogs end up in sanctuaries, unwanted and alone whilst demand for puppies is further fuelled.

As a charity dedicated to informing and educating the general public, one of our primary aims is to help the buying public make a more humane choice when buying a puppy.